Click to Pay guest checkout
Introducing Mastercard Click to Pay – a next-generation online checkout experience that makes passwords a thing of the past
What is Click to Pay?
Click to Pay makes it easy for consumers to checkout, no matter what online payment channel they choose. Consumers store all their cards in a portable profile they can use securely whenever they see the Click to Pay icon. Built on EMV standards, Mastercard Click to Pay is a password-free checkout option that delivers security, convenience and control to your consumers.
Smart Security
Intelligent authentication helps recognize your consumers at checkout with potential to help reduce fraud.

Simple and convenient
Password-free checkout makes paying online quick, simple and hassle-free

Consistency and control
A consistent payment experience that gives consumers the ability to store payment information securely in one place – so it's there when they need it.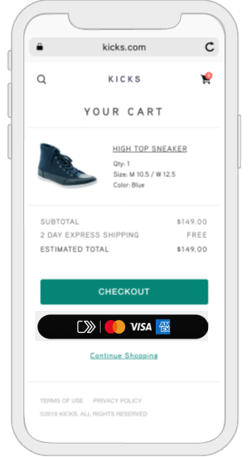 Click To Pay Payment Solution For Merchants
How it works
Look for the Click to Pay icon.
Choose your payment method – everything is stored securely in one place.
Check out securely in just a few clicks.
Enable a seamless and secure checkout experience today with Mastercard Click to Pay
Consumers have come to expect a certain level of security, convenience and control when paying with a card. Click to Pay now brings that experience to digital transactions.
Benefit now and in the future
Over 2.26 billion people will be digital buyers this year, an increase of 6.9% over 2019.
Simplify your checkout your way
54% of online shoppers abandoned a cart because checkout was complicated or they didn't want to create an account
Related Content
New requirements will require your business to enable two-factor authentication.
We handle the payment processing and PCI compliance, so you can focus on growing the rest of your business.