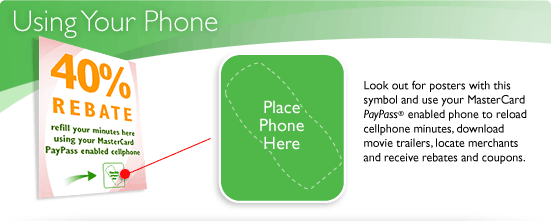 Using Your Phone - Do More With Your Phone
Your Near Field Communication (NFC) phone can securely transmit and receive information wirelessly. This expanded functionality opens up a whole new world of convenience and security, from enhanced entertainment to shopping and more.
What else can NFC phones do?
With an NFC phone you can do more than talk and pay. You can:
Enjoy movie previews just by tapping your phone on a special poster
Locate MasterCard PayPass-enabled retailers
Reload your air time
Take advantage of exclusive rebates and offers
And more!