SMALL BUSINESSES AND RETAILERS ARE TURNING TO MOBILE TO INCREASE SALES AND BROADEN THEIR CUSTOMER BASE
Small businesses and retailers that have never accepted card payments and previously operated on a cash- and invoice-only basis are turning to mobile point-of-sale (MPOS) solutions to expand their customer base and sales. Existing retailers are also adopting MPOS solutions to enhance the retail and payment experience. MasterCard has introduced the MasterCard Mobile POS Program to promote simple and secure transactions when consumers use their debit, credit and prepaid cards to pay merchants that use these devices.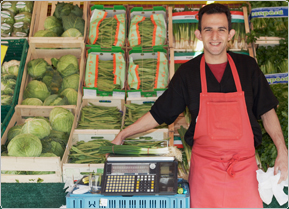 DID YOU KNOW?
1.2 million MPOS solutions were shipped to MasterCard merchants in 2010 and 2011–and 75% of those merchants had not previously accepted payment card transactions.1
THE MASTERCARD MOBILE POS PROGRAM
The MasterCard Mobile POS Program offers guidance and best practices to mobile point-of-sale solution providers and merchants to help small businesses and retailers use their mobile devices as secure POS payment terminals.
The program provides clarity as to how MPOS solutions should be developed and deployed by establishing MasterCard Mobile POS Best Practices.
MASTERCARD MPOS PROGRAM REGISTRATION
The MasterCard Mobile POS Program gives MPOS solution providers the opportunity to be recognized as best in class by self-assessing their solutions against MasterCard Mobile POS Best Practices.