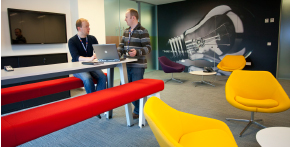 IRISH FLAIR. GLOBAL IMPACT.
Your chance to make a difference in the world may be right here in Dublin. We're looking for energetic, bold thinkers with a passion for technology. Help us continue transforming the heart of commerce. Push your own boundaries. Be a part of the change...at MasterCard Worldwide.

ON A MISSION
At MasterCard Ireland, you'll find a work environment that reflects our mission: to leverage our technology and expertise to make payments safe, simple and smart. This translates into a highly energetic and collaborative workplace, where new ideas are welcomed, creativity and ownership are recognized, and hard work is rewarded.

COLOURFUL. FRIENDLY. FUN. PROFESSIONAL.
These are just some of the words to describe our super new state-of-the-art building in Leopardstown, Dublin. Our workplace reflects our commitment to a work environment that encourages innovation, thoughtful risk-taking and teamwork. There is a good vibe when you walk through our space. It is hi-tech, inspiring and demonstrates pride in our brand. The futuristic new headquarters is itself a striking statement about our belief in the future of our company and our industry.

BUILDING THE FUTURE
At MasterCard Ireland, you'll not only be working with the best technologists in Ireland, but across the globe. We are currently working on the most exciting innovations shaping our industry and beyond. Our technology breakthroughs have a profound and positive impact on businesses and individuals around the world — each and every day.
"I get to work here. YES!!!! It's fantastic to have an office that matches our team spirit. Fun, cool and creative. Sometimes colourful depending on what colour jumper I wear." – Eamon Doyle, Senior Engineer, Software Engineering
MasterCard Ireland is recognized as a Great Place to
Work. The award celebrates pride, trust and enjoyment employees gain from their work environment.

THE OPPORTUNITIES
Because our products and services are leading edge, you'll have numerous opportunities to get involved in projects that not only interest you, but also make a dramatic difference in the lives of people around the world. You will receive all the training and support needed to help you reach your career goals. You decide where you want to go — we help you get there.

INNOVATION
At MasterCard, there are always new problems to solve and inspiring goals to reach — and then exceed. Maybe that's why we attract the very best and brightest. Are you one of them?
We offer a number of interesting programs to get your creative juices flowing:

Innovation Time
Innovation Time is a program that enables MasterCard staff to work on new ideas outside of their "day jobs." Through this program we are looking to improve the way we innovate, leverage the ideas and knowledge of our people, increase employee engagement, and foster collaboration across departments and geographies.

Innovation Express
Innovation Express is a two-day 'round-the-clock competition focused on solving a specific business problem. Employees participate in teams with composition determined by a challenge. Each team is tasked with delivering a prototype, a business plan, and a demo video of their product. The participants come from all areas of the business and various regions. The competitions are always held in interesting places around the world.

Aspire
Through the Aspire program, any employee can submit an idea in response to a business challenge and others can view, comment, and build on it.
You don't have to be a technologist to participate in any of these programs — we believe strongly that good ideas can come from anywhere in the organization!

THE BENEFITS
By joining MasterCard you will have the benefit of working in a cool, fun and inspiring workplace. In addition, we offer competitive salaries, annual bonuses and a range of attractive benefit programs:
Full Healthcare Coverage (50% subsidy for partner/spouse and children)
Matching Defined Contribution Pension
Life Assurance
Travel Insurance
Income Protection Plan
Increased Annual Leave and Service Days
Educational Assistance
MasterCard Sports and Social Club
Our employees' welfare is important to us, so we offer flexible working arrangements to ensure that all of our employees have a healthy work/life balance. What we put in, we know we will get back.

OUR COMMUNITY
Giving back really matters to MasterCard. That is why we have formed a partnership with Junior Achievement Ireland. We also support charitable events such as Irish Cancer Society Daffodil Day, The Hospice Coffee Morning, Rehab Annual Raffle and many more in Ireland and in our regions around the world. MasterCard Worldwide is consistently recognized as one of the best companies in the world to work for. Come join us and you will see why.
"You cannot halt progress. Someone will always find a better way. To stay relevant, you have to continually innovate. As well as optimizing revenues from your existing products and solutions, you need to be the one that makes these products and solutions obsolete when their time as passed. If you don't, someone else will…" – Garry Lyons, Chief Innovation Officer
People and Perspectives. Straight talk about working at MasterCard from those who know best: Our Employees.